4 Steps to Know Exactly What to Do Every Hour to Be Productive as a Stay at Home Mom
I remember many moments throughout my sons first 8 months, sitting on the floor, watching him play with toys – sometimes interacting, often observing – when these thoughts would pop into my head:
"I should try to get dinner started."
"If I had another kid, I wouldn't just be sitting here."
"I bet I could get through a book if I read just a little bit while I'm with him."
"Have I gotten anything done today?"
When he's napping, and I'm prepping dinner, thoughts of all the other things I could be getting done float through my head.
It's a "grass is greener" mindset. No matter what you've chosen to do, you feel it could be spent more wisely.
The worst is when you've decided to do something for you – a massage, movie with a friend, or simply sitting down for 30 minutes to watch a show – and you can't fully enjoy it because thoughts of what you "should" be doing are ruining the party.
Disclosure: Some of the links in this post are affiliate links and if you go through them to make a purchase I will earn a small commission. Keep in mind that I link these companies and their products because of their quality and not because of the commission I receive from your purchases. The decision is yours, and whether or not you decide to buy something is completely up to you.
I got tired of constantly questioning myself, debating if I was spending my time doing the "right" things. Something needed to change. What ended up helping me end this negative dialogue was both mindset, and (as always) planning.
Look at your priorities
At the time, Owen was in daycare two full days a week, and the other weekdays he was with with me. Since I was happy with this mix, what it actually came down to was knowing what the priority of "the time" was. This meant, if it was a day I was with Owen, being fully focused on him was the best use of my time.
Your priorities will change as your life evolves, but look at where you are now (and remember that you aren't locked into these priorities for life!) and write down your top 3 priorities.
This makes your Big Picture more tangible and clear, when you feel you aren't doing something important "enough", think back to your Top Priorities. Are you working within these priorities?
Don't dwell on hypotheticals
There were two major hypotheticals I fell into; "IF I had an older child I couldn't/wouldn't…" and "IF I had a 9-5 office job, I couldn't…"
I was basically feeling guilty because of how my life wasn't. While prepping dinner during his nap I'd think, "how would I get dinner ready if I was at an office right now?"
What good is that doing anyone?! The life you have is the life you are living. Don't waste your energy over what your circumstance could be, or what other people are dealing with.
Don't get me wrong, it's a positive thing to recognize when you have the upper-hand, but feeling like you don't deserve won't do you any good.
Create a plan for your day
I am incredibly comforted when I have a plan. Even if things don't go 100% the way I aim, I like having a thought-out structure. There's no one way to make a plan for your day, it can be super detailed or rough, on your phone or a journal, it's whatever works for YOU.
Here's what I do:
I have a Trello account where I have a board of tasks I need to do for my business, and board of tasks for our home. This is my online planning.
Next, I have a physical Daily Planner from inkWELL Press. I get up at least 20 minutes before getting the baby (it is so worth it, mamas!), and fill in my goals for that day.
I recommend creating your plan the morning of, as opposed to at the start of the week so you have a better idea of what you can handle day to day. Kids or no kids, you don't know how restful your night will be, or any emergencies that pop up to skew your week.
I have to take a moment to plug inkWELL Press and their AMAZING planners! I LOVE to plan and these planners go above and beyond. Honestly, there are a lot of planners out there, and what often happens when you get a new one is that you don't use it efficiently, or you use it for a week then fall off.
Tonya Dalton, creator of inkWELL Press, is a productivity expert and doesn't just want you to buy her products, she wants you to succeed by using them. My planner came with an emailed Productivity Setup Series in video form to ensure I got the most from my new planner!
Make your choice once
At this point, you've got your priorities guiding you, and the top things you want to accomplish or focus on that day. Now, when you decide what you are going to do at any given moment – color with your toddler, yoga class at the gym, grocery shop, work project, etc. – be content with your choice.
I'll repeat that: Be. Content. With. Your. Choice.
It is spectacularly draining to go back and forth, doubting yourself. I guarantee all of your choices are important, so whichever you choose is the right one.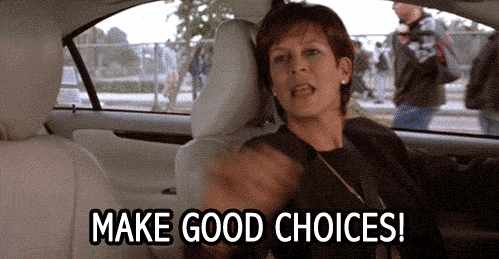 It feels there are infinite things we could be doing at any given time, and usually we feel we could be doing something better than what we chose. That feeling won't disappear on its own, but these steps will help ease your frustration.
Talking through Top Priorities and setting up a personal planning system is something I love doing with clients. If you feel scattered, shoot me an email at Samantha@simplywellcoaching.com and let's set up a Discovery Call to ensure Health Coaching is right for you! Together, we'll break down your wellness goals – preconception or pre/postnatal – and create a plan. You got this!