One Truth to Step Off the Emotional Roller Coaster
I distinctly remember the quickest crash of confidence I've ever experienced. I was running on the 606, the multi-use path near our place in Chicago, and Owen was somewhere around 6 months. I runner-nodded at two guys on the opposite side of the path and felt on fire.
I. Was. DOING IT! They were just running. But me? I made it out of the house with a happy baby and was pushing a stroller up the incline.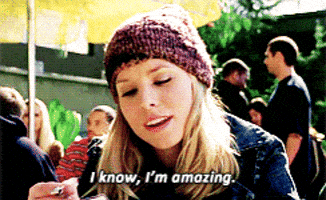 Not 30 seconds later, A women power-walked towards me with 2 kids in a double stroller and a baby strapped to her chest. Instantly, I felt deflated. Of course this was easy for me, I only had one! How the hell did she even leave the house? And she's EXERCISING?!
This isn't news, but if you rely on outside cues to measure how you're doing, you're never going to get off the emotional roller coaster. You will constantly be pulled, just like I was, into feeling drastically different about yourself and your worth in a way that has nothing to do with you.
There will A L W A Y S be someone doing more than you.
The only thing that will allow you to ignore that, and not get pulled into their actions, is focusing on your improvement. Are you doing more than you were?
Let me be very clear: "More" does not always mean quantifiably more.
Doing more for you right now could be doing less work on the weekends.
Turning down opportunities that do not align with your values.
Going to bed instead of pushing through.
Signing up for the race.
Taking an extra rest day.
Responding to the hard email.
Speaking up for yourself.
I can't tell you what your "more" is, but I can give you a hint: You know. Whatever feels challenging for you right now, something you avoid doing even though you know it's what you need, that is your "more".
Bring your focus to if you are doing more for yourself than you were, and let that be your measure of success.
It sounds so simple, but you guys this is really hard! We are conditioned to use set measures of success, but they know nothing about you as an individual person. Tune out the "should's" and become obsessed with becoming your own measure of improvement.
This is my sweet spot. Helping women who are used to constantly pushing themselves, let go of the guilt and fear of going a direction that feels a lot like letting go. If you struggle with this, you found this post for a reason! Book your free consult and together we can create your own action plan.