On the Job and on the Move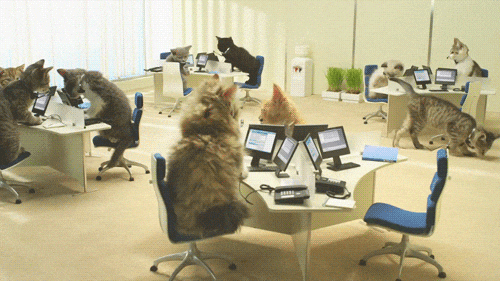 Computers have incalculable benefits, but making your office job completely sedentary is not benefiting anyone. Cue the chorus: sitting is killing us! and the only way to combat this inactivity is by upping your N.E.A.T. factor. We went over non-exercise activity thermogenesis (N.E.A.T.), small movements throughout the day outside of exercise, and ways to incorporate more activity into your lifestyle a few months ago (read more here), but what can you do where you spend the majority of the day?
The modern office runs on email, conference calls and – in short – the internet. Incorporating movement while being a productive employee (and not distracting your coworkers with jumping jacks!) can seem tricky, but using movement to compliment and even enhance your workflow isn't impossible.
Here are a few ideas to try this week!
Stand up and do a few calf raises when someone calls you.
Walk to the farthest bathroom and water fountain every trip.
Whenever appropriate, go speak to your coworker instead of emailing.
Instead of waiting to print/copy/scan items when you have a stack, print/copy/scan as soon as you need to.
Even if you brought your lunch, take a short walk outside before or after (this will help your mood and stress level as well!).
Schedule or suggest walking brainstorming/catch-up meetings instead of at the conference room.
Set a timer (or use StandUp! app) to remind yourself to take breaks from sitting and screen time.
Thanks to Greatist.com for stretching list and photo!
What are ways you incorporate movement into your work day and every day?