How to Boost Your Self-Esteem During Pregnancy
Pregnancy is a miraculous and beautiful process. At least that's what we're told before getting pregnant! In reality, the rapid bodily changes that accompany pregnancy can cause women to feel uncomfortable, damaging their confidence.
Read This: 4 Tips for Improving Confidence After Birth
Having low self-esteem can hinder your enjoyment of what should be a special time in your life. In addition, it can also lead to feelings of anxiety, loneliness, stress, and depression. To avoid such negative effects and start feeling like the strong, beautiful woman you are, read these tips on how to boost your self-esteem during pregnancy.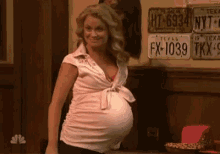 Set aside pre-pregnancy clothing
As your body changes, you'll slowly start to outgrow your pre-pregnancy clothing. Seeing a wardrobe full of clothing items that you can no-longer wear may upset you and hurt your confidence. As such, you should pack away any clothing you that brings you pain since outgrowing. In doing so, you won't have to torture yourself by longingly staring at outfits that you can't fit into for the next nine months.
This is also a huge opportunity to reevaluate your wardrobe. You likely have clothes that you either haven't put on in years, or have had since high school and need to go. Take advantage of the changes in your body, and urge to Nest, and clear out your closet.
Read This: How to Downsize Your Wardrobe & Declutter Your Clothes
Purchase flattering clothing
The clothing you wear can have a large impact on your self-esteem. Ill-fitting clothing can make you feel uncomfortable, and damage your body image. To improve your confidence, shop around for clothing items that complement your new figure.
Have fun dressing your bump! Flowing maxi-dresses, loose skirts, and tunics are all comfortable and fashionable items to add to your wardrobe during pregnancy. You don't have to sink a ton of money, either. Ask your friends and family with small kids if they have any items to lend, and check out kids and women's consignment shops for a maternity section.
Patpat.com has very cute and highly affordable maternity clothes.
Be kind to yourself
Allowing negative thoughts about yourself to frequently pass through your mind can do a lot of damage to your self-esteem. If you notice yourself thinking or saying self-deprecating thoughts, make a conscious effort to redirect them to something positive about yourself. Focusing on your strengths rather than your self-perceived weaknesses can help boost your confidence over time.
Read This: 4 Steps to Turn Your Negative Thoughts into Positive Affirmations
Confide in someone
If your self-esteem starts to plummet during pregnancy, talking to someone can help. Speaking to a trusted source such as a friend, partner, family member, or therapist can be a cathartic experience that often helps diminish feelings of stress and negative thoughts. In addition, by expressing your problems to someone, they may be able to help you find productive ways to decrease your negative self-image.
I love working with moms-to-be and helping them find the many things to love about their pregnant body and life. As an avid exerciser, I have been through the emotional roller coaster of a changing pregnant body. If your confidence is draining as your body changes, let's talk. Email me at Samantha@simplywellcoaching.com to set up a FREE 20 minute Discovery Call and see if prenatal health coaching is right for you.
Please note: Some of these links are affiliate links, meaning I receive a small commission should you choose to purchase through them. This in no way affects the cost to you, or my opinions. Thank you for supporting me and my business!