What This Health Coach Eats in a Typical Day
A a health coach I wanted to share what I eat in my day-to-day life, to show one of the many ways a health conscious individual nourishes themselves. This is not meant to say, "you should be eating this, too!", it's more of a, "here are some healthy things you may not have thought of", and to show that there's room for your favorite indulgences in any well rounded diet.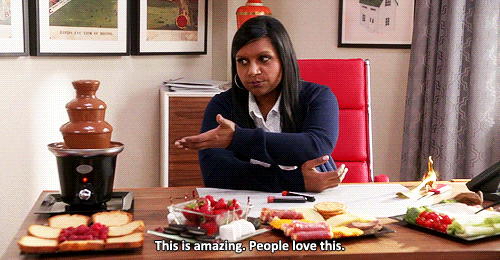 I am a creature of habit and could eat the same thing for breakfast and lunch nearly everyday, but I like to add some variety, especially for dinner, and I figured I'd give you a few examples of my most used "recipes".
Breakfast
I typically eat sometime between 8-9am depending on my morning. At least 4, probably 5 days a week, I start my morning with oatmeal. I make mine with quick oats – not instant oatmeal – but the 1-minute oats, although you can use regular or steel cut, they even have gluten free. Alternatively, and especially on weekends, I like to make a big yogurt parfait. It keeps me full as long as the oatmeal because of all the protein!
Oatmeal
1/2 C oats
1 C almond milk
1 heaping spoonful plain yogurt
Honey/Stevia/brown sugar to taste
Pinch of salt
Mix all together and microwave about 2 minutes (keep an eye on it for overflow!)
I rotate between these add ins:
Pumpkin Pie:
Heaping spoonful pumpkin pureé
Nutmeg, cinnamon, clove
Berries and Cream:
Frozen berries
Scoop vanilla protein powder
Peanut butter:
Scoop peanut butter
Cinnamon
Yogurt Parfait
1 C plain low-fat yogurt
Handful cut cherries or grapes
1/2 banana, sliced
1/2 C Great Grains cereal (I use the Raisins, Dates, and Pecans kind)
Drizzle of honey
Lunch 
If I'm eating lunch at home with access to a stove, I'm making a fried egg sandwich. I've been doing this for years (and years, and years) and it's good for a late breakfast, too. If I'm eating away from home I like either a PB & J with banana or a frozen Amy's burrito if there is zero time to prep before. I eat between 12:30-1:30 pretty much everyday and the breakfast I have in the morning lasts me until then.
Fried Egg Sammie
Whole grain English muffin
1 Egg
1 Slice white cheddar cheese
Spinach
Cherry tomato sliced
Hummus and grainy mustard
Pan fry the egg. Lay spinach on cut English muffin, place egg on top, then tomato, then cheese. Put in toaster oven until cheese starts to brown. Spread hummus and mustard on English muffin top and make a sandwich.
I like to pair this with an apple, small yogurt parfait, or baby carrots.
Snack
Snack time is my favorite time! If I'm eating lunch around 1pm, I'm usually in need of something around 4-5pm since we typically eat dinner around 7:30. I feel like I go in phases for afternoon snacks, although if I'm away from home I grab a bar and a string cheese. Lately at home it's been pretzel and cheese roll ups. I make a few of these depending on how hungry I am.
Pretzel Cheese Roll Up
Pretzel rods
Provolone
Spinach
Hummus
I break the pretzel into 2 smaller pieces and tear the provolone slice in half. Place a little spinach on the cheese and pretzel on top of that. Roll the cheese around the pretzel and dip in hummus. The mix of crunchy and salt with the protein and calcium of the cheese is satisfying texture-wise and has staying power. The spinach gives you a ton of vitamin A and K, plus manganese and folate.
Dinner
Dinner is the most varied of the week by far. Although I like to make things like casseroles or use my slow cooker to have leftovers, I vary what we eat for dinner as much as I'm able. I use sweet potatoes a lot, and end up having a vegetarian dinner at least 2 nights a week.
I'd say we have some version of a lasagna, chicken casserole, burgers, or breakfast-for-dinner the majority of nights. My main goal is to get a variety of veggies along with lean meat (if we're having meat that night), and whole grains. I add protein like beans or cheese in wherever I can, especially if we aren't having meat. Here are my favorite and most used recipes.
Super Easy Skinny Veggie Crock Pot Lasagna
Pinchofyum.com
1/2 lb 96% lean ground beef
1 egg
Spoonful part-skim ricotta
Handful oats
Seasoning – salt, pepper, garlic powder, cayenne pepper, cumin
English muffins
Toppings – cheese, spinach, tomato, onion, avocado, ketchup, and/or mustard
Mix beef through seasonings until blended. Divide into 2 patties, cook in skillet over medium heat 8-10 minutes per side. If topping with cheese, place on burgers for final 1-2 minutes. Toast English muffins and assemble burgers.
Buffalo Chicken Casserole
Wickedspatula.com
Elvis Stuffed French Toast
Simplywellcoaching.com
Late Night Snack
I can't stress enough how much I love a good snack. While my "late night" is usually around 9:30pm, it's my nighttime snack that I look forward to and keeps me satisfied overnight and I'm not ravenous in the morning. Here are my current hits:
Oikos Triple Zero Greek Yogurt (caramel creme) with Great Grains
Natural PB with preserves on graham crackers
Gelato! There's a great place a half mile away that we like to stock up from.
Halo Top or Enlightened ice cream if we don't have gelato
That's a wrap! I haven't calorie counted in years, but this menu keeps me full, gets me through my workouts, and in my healthy weight range so I don't question it. Above all, keep your focus on getting a variety of veggies, whole grains, and protein and you'll be set. Don't overthink it! Check in with your hunger cues to see if you need to adjust for more or less calories.
Dinner is the biggest question mark of the day, as it is for most people. If you could use some help getting a healthy dinner on the table and are intimidated by cooking or meal planning. Check out my Simply Healthy Weeknight Dinners plan! It contains a month of weeknight dinners, each containing only 5 ingredients. Click below for more info!