The Best Tips to Eat Healthy at Any Restaurant
Before I get into this post I'd like to make it clear that there is absolutely nothing wrong with going out to eat with friends, a spouse, or family, and enjoying an indulgent meal!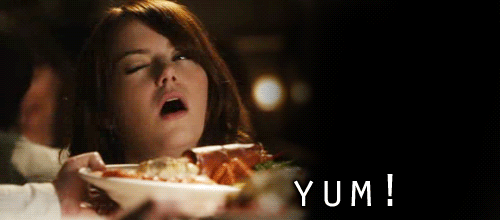 Dining at a new restaurant, trying a dish you don't have the courage to cook at home or splitting 3 desserts among friends are pleasures that have a place in a healthy lifestyle.
However, we all have those weeks where the perfect storm of events collide and you find yourself with more indulgent opportunities than necessitate a balanced healthy life. For those weeks where you strive to keep your nutrition in check while dining out, here are some pointers to keep in your toolkit!
Dining Out in General

Avoid arriving starving – Have a late afternoon snack like almonds, string cheese, yogurt, etc.
Get creative with apps! – 2 appetizers can make a balanced meal
Go splitzies – Split an appetizer and entrée with a friend
Choose your splurge – Pick ONE; drink, appetizer or dessert
Water first – Drink your full glass of water before ordering/eating
East slowly – Enjoy your company and conversation
Key words to avoid – Breaded, fried, battered, creamed/creamy
Key words to order – Blackened, charred, broiled, grilled
Dining Out – Italian

Skip the bread – Either have the waiter not bring any, or place it out of your reach.
Get saucy – Look for marinara based sauces, avoid "creamy" and "rich" sauces.
Think outside the pasta – There are many lean, high protein meat or seafood entrees.
Veggie splurge – Look for dishes that feature in-season veggies.
Soup's on – Minestrone is a great starter! Go for broth-based, steering clear of cream-based.
Eye the Pie – Pizza can be a good option! Look for thin-crust, marinara base, load up on veggies and ask to go light on the cheese.
Dining Out – Mexican

Skip the chip – Do not have the waiter refill the basket. If you want chips, put a handful on your plate and enjoy those only.
Fajitas are your friend – Fajitas make a filling and healthful meal by skipping the tortillas and enjoying the flavors of the meat, veggies and salsa.
Salsify – Use fresh salsa in place of dressings and fat/sugar laden toppings.
Be a softy – Opt for whole grain/corn soft tortillas over hard shell (i.e. fried).
Easy up top – Ask to go easy on the cheese, guac and sour cream. Better yet, ask for it on the side.
Take the struggle out of healthy eating for good.
Dining Out – Steakhouse

Swap carbs – Baked potato, fries and creamy au gratin potatoes are a triple threat! Swap at least one side for steamed veggies and/or a salad.
Go naked – Order a plain baked potato with minimal toppings (think; salsa, broccoli, grilled onions).
Sauce smart – béarnaise is egg yolks plus butter, instead go for seasonings like peppercorn.
Go lean – Cuts to order: Petite Filet, Sirloin, Tuna Steak, Tenderloin. Cuts to pass on: Rib Eye/Prime Rib, Porterhouse, T-Bone
Dining Out – Sushi

Tempting tempura – Avoid tempura, it only means fried!
Go raw – Sashimi and Nigiri, while not your traditional rolls, are a great low-calorie and high protein way to enjoy your sushi without the fillers.
Rice swap – Ask for rolls to be made with brown instead of white rice and get some extra fiber.
Spice smart – Add wasabi and ginger to taste the heat without adding calories with spicy mayo.
Don't be special – Specialty rolls are typically overstuffed and contain empty fillers like mayo and/or cream cheese. Keep it simple!
Dining Out – Chinese

Eat like Buddha – Buddha's feast, or any mixed steam vegetable entrée is always a great choice! Moo Shoo and Chop Suey are veggie plentiful as well.
Words to avoid – Kung Pao, BBQ, General Tso's, Sweet and Sour. These are typically very heavy and loaded with sugar.
App it up – Miso soup, fresh spring rolls (not egg rolls or fried spring rolls – just ask), and steamed pot stickers or dumplings can make for a healthy meal.
Tea time – Enjoy the green tea before and while you dine. It will help fill you up but also gives a great flavor.
Sauce this way – Ask for light/half on the sauces or, better, yet, get them on the side.
If you find the bread basket's allure is too strong, or you have more dessert that planned, just move on! Go into your next meal with a blank slate, not letting the previous nights' meal dictate what or how much you eat. Print your own cheat sheet for quick reference before heading out!
Dine Out without Filling Out Cheat Sheet
I help new moms and moms-to-be get their healthy eating habits back on track, and figuring out what when ordering out is a big part of that! Schedule your FREE Discovery Call to learn about health coaching and working with me!