Blue Apron
A Health Coach's Review
I knew the concept of Blue Apron; a meal delivery service that delivers fresh ingredients along with killer recipes to your door, and all you do is cook. I've been through the website, read reviews and menus and heard nothing but great things from my cousin who uses it regularly. But for some reason the $50 off promo card sat on my desk for weeks. I guess I felt there could be a better time to use it, a week it would be hard to get to the grocery, or didn't feel like planning dinner.
Last week the opportunity finally presented itself. Wednesday my husband and I celebrated our 3 year wedding anniversary, and decided instead of going out dinner, we would cook something different together at home, using Blue Apron!
You may be picturing this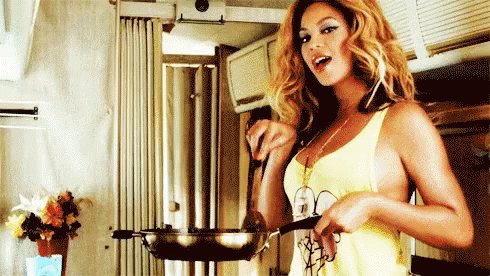 but in reality it was more like this
But I digress. After a deliciously successful anniversary dinner, I just had to share my experience. Here's the rundown:
Ordering
There are two main options when ordering; 2-Person Plan and Family Plan. With the 2-Person Plan you receive one delivery a week with 3 different meals portioned for 2 people, while the Family Plan serves 4 people and you can select 2 or 4 recipes a week. Brett doesn't eat seafood so I edited my meal preference to exclude seafood and shellfish. You can see the menu for the week, and unless you are getting the family plan with 4 recipes a week (which would be all the recipes) you can select which recipes you want.
I only wanted meals for that week, so I selected to skip the delivery for the following 3 weeks. More on that tactic later!
Delivery/Packaging
Delivery was super easy. You select which day you want your meals delivered (you can change the day or if you want to skip that week within a certain timeframe), so I selected Wednesday. I went to walk the dog and my Blue Apron box was on my doorstep! One box contained everything I needed for our 3 meals. The only items they assume you have on hand are salt, pepper, and oil.
Ice packs were placed at the bottom within the insulated bag so everything would still be fresh if I hadn't been home to receive it. All ingredients were labeled and the recipe cards showed which items went with which recipe.
I placed the insulated bag in the fridge and waited until it was time for the fun to begin!
Recipes
As of now, I have made two of our three recipes and they were delicious! I honestly don't know which I liked more; the Korean Pork Tacos or Brown Butter and Thyme Gnocchi…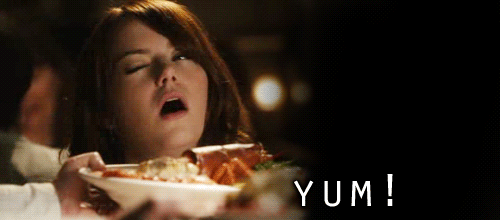 But back to the recipes! Like I said, we opted out of the seafood/shellfish meals, but every recipe I viewed on the site looked delish. When you're done with your meal, you're left with an awesome recipe to use later, which can also be found on their website in case you don't like saving physical recipes like I do. As a health coach, I appreciate that they include the nutritional information, and each recipe that I saw had a good balance of carbs/fat/protein.
Cooking
We decided to make the Korean Pork Tacos, set out the recipe card, sorted out our ingredients, poured some wine and got to work.
Now, I enjoy cooking. I like filtering through recipes, trying new techniques and cooking styles, even grocery shopping isn't a dread. (I will note that getting to the grocery isn't my favorite, especially in the winter). So, while I am not particularly intimidated by cooking something new, I completely understand how out of your element it can be! These meals sound complicated, "Korean Pork Tacos with Spicy Red Cabbage Slaw", but the recipes are not! Not only are there pictures, but you can also go to the website and see videos as well as read tips from other users.
(recipe card front and back)
I chopped items for the slaw while Brett started cooking the pork. They only send exactly what you need for each recipe, which seems funny to see only 3 radishes and 2 green onions, but you don't have to measure and you don't waste produce.
We took our time and were done in about a half hour.
Korean Pork Tacos with Spicy Red Cabbage Slaw
Brown Butter and Thyme Gnocchi
Final Thoughts
To be completely honest, my plan was to use the free code to get my meals, test it out and cancel my account. As I mentioned before, I love to cook, I'm not intimidated by many recipes and I have the time and patience for the grocery. However, with all of those things on my side, I sincerely plan to use Blue Apron again!
For me, these were my big takeaways:
1. It was a nice break from deciding what I wanted to cook that week. Not to search for two recipes that used only a half pound of turkey so I could use the whole pound that the grocery sells. Even as someone concerned with the ingredients and nutritional value of my meals, I didn't feel the need to scour through each recipe because they are all realistically healthy.
2. We tried things I've never cooked before, and now have those items (gnocchi for example) in my repertoire and recipes saved.
3. Even if I didn't have a discount code, the meals broke down to – at most – $10 per person/per meal. At first I thought that was kind of steep, but then I thought about how I didn't have to go to the grocery (time and stress saver), and how no ingredients went to waste. Sure, I may spend less on what I use when I go to the store, but I'm often throwing items away because they go bad. Also, the quality of the items they send are as good or better than what I buy.
Also, If you travel, this is a great way to still cook delicious meals without stressing over when you can get to the store, or leaving town with a fridge full of food that will go bad. Intimidated by cooking? These recipes are accessible and with the support of detailed recipe cards, videos and an online community, you can comfortably learn how to cook at home.
It's easy to skip deliveries and you can cancel your account at any time so money and food aren't wasted. I see why people are loving Blue Apron! Have you used this or another meal delivery service? What did you think? Tell us in the comments!