4 Uncommon Resolutions to Make this New Year's
New Year's Day is when we all agree to hit the big Reset Button. Gretchen Rubin describes it as the strategy of the clean slate; a fresh start to form new habits and ditch old ones.
Just like setting goals, setting a New Year's Resolution takes some thought if you want to actually keep it going all year. Many people pick the same resolutions year after year, wondering why they fail before the calendar hits February.
Read This: How to Set SMART Goals
This year, instead of repeating the same tired resolutions, try something new. These 5 uncommon resolutions have a ripple effect to you leading a healthier, happier life!
Master Your Morning Routine
If you roll your eyes at the sound of, "Morning Routine", I don't blame you. After hundreds of posts about Morning Routine's, I felt bombarded and didn't even try to create my own, but now that I have, I am a morning routine advocate.
What stopped me, was A) believing that every day was different so what was the point, and B) there was so much information I felt I'd screw it up or it'd be more of a chore than relaxing.
Making a New Year's Resolution of mastering a morning routine gives you some wiggle room to figure out what works for you. Spoiler alert: for moms with young kids, a beneficial morning routine means getting up before they do. Although, if you are up multiple times through the night still, don't put that pressure on yourself just yet!
How do you make a morning routine?
I started with 15 minutes before I normally got up, and slowly worked my way to getting up at 5:30am, an hour to an hour and a half before I get Owen out of bed.
What helps the most is finding something that you look forward to doing in those early moments. Don't make the mistake of making your routine full of what you think you "should do".
Read This: How to Stop Saying "I Should" and Actually Reach Your Goals
Sure, getting up and our for a 30 minute run might sound good on paper, but if your body takes time to wake up or if running isn't a priority for you, it shouldn't be part of your routine.
Here is my routine:
5:30 – Alarm goes off
5:40 – Changed and downstairs
5:40-5:55 – Morning stretch/yoga (I follow YouTube videos like this!)
6:00 – Coffee is poured, start daily news podcast (Currently I listen to What a Day)
6-6:50 – Work (usually a post, preparing a newsletter, or maintaining my Tailwind account), make my toddler breakfast before getting him out of bed
This is a quiet, solitary time that I quickly grew to look forward to. I am in bed by 10pm, making my 5:30 alarm not be so jarring, and since it's a routine that I enjoy. getting up is honestly no problem.
Make it work for you:
Give yourself a detailed reason to get out of bed. Just like goal setting, if you're vague, you're less likely to do it. Plus, it's hard to think early in the morning so the more specific and routine you make it, the easier it will be.
Make this time for something you look forward to, and makes you feel good. I didn't think about adding the yoga segment until I did a 30 day challenge and noticed how amazing it felt to move my body first thing in the morning.
Think about what makes you feel good both mentally and physically, and add at least an aspect of that into your routine. Make that the first thing you do, and to get started that could be all you do, and grow from there.
Ideas:
Bullet journal
Yoga/stretching
Coffee/tea
Read for 15 minutes – either a book or inspirational post
Plan your day in a planner
Meditate
Prep breakfast
Tackle email
Create a Bedtime Routine
Which came first; the morning or bedtime routine? When I'm not careful, a bedtime of 10pm quickly turns into 10:40. While 40 minutes might not be a big deal in many other scenarios, those are very precious minutes when I'm getting up early.
The first thing you'll want to do when creating a bedtime routine, is figure out what time you need to be in bed (literally in bed, not getting ready for bed) and work your way backwards.
Read This: 4 Steps to Create an Idyllic Bedtime Routine
Write down, or think of, all of the things you need to do before laying your head on your pillow, and be generous with how much time that takes. Just like the morning, your nights will vary, but having a general routine and concept of how long it actually takes you to get into bed is hugely valuable!
Tasks in my bedtime routine:
Prepare coffee machine
Loosely plan day
Take contacts out and brush teeth
In bed to read for 10-20 minutes
Closing eyes by 10-10:10
Bedtime routine's are basic. The larger goal of having one is that you get in the habit of getting to bed on time instead of constantly uttering, "OMG how'd it get so late? I should be in bed!"
Make time to read
If nothing else, reading a good book gets you out of your head. For over a year after my son was born, I believed I didn't have the bandwidth to pick up a book. As an avid reader, it pained me.
I missed reading! Especially the communal aspect of talking about what book you're into.
So, when Owen was 16 months, I started a book to see what happened. I finished it in 2 weeks! I stayed with that pace and within 6 months I started my 11th book.
For a lot of people – especially moms – taking time to read can feel like time you do not have. So, whether you've taken a break, or never thought yourself as a "reader", consider a resolution of making time to read.
Tips to read more:
Make reading part of your morning or bedtime routine.
Don't wait for a large chunk of time! Reading for 5-10 minutes at a time adds up.
Look for opportunities. When you child is independently playing, when you sit watch during bath, basically anytime you scroll social media.
Always bring a book with you. The person you're meeting could be late, the doctor is always behind, you miraculously arrive early, etc.
Use Goodreads! Great source for reviews to find your next book, and keep track of the one's you've read/want to read, plus the progress bar works as accountability.
Strengthen connection with friends
One of the hardest things about adulting is keeping and making friends. Our schedules get in the way, and distance feels like a barrier. Study after study proves that friends are good for your health! Instead of the routine health resolutions – lose weight, eat better, etc. – this year, focus on friendships.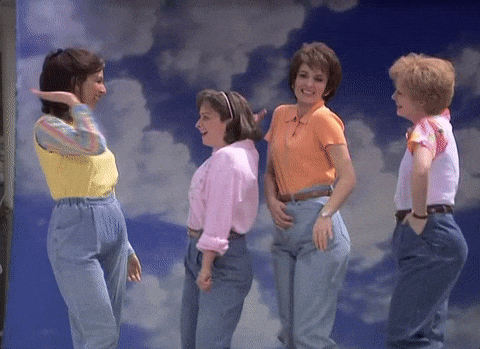 Fear not: Technology is on your side, my friend!
Ideas to strengthen friendships:
Snap regularly.
Create a group text for friend groups to maintain closeness.
Use FaceTime, or send video texts, like when telling long stories or funny moments.
Schedule friend dates just as you would date nights.
Use them as a resource, like asking them for input on your decisions. Even sending pics of outfit options is a simple way to stay in touch!
Read This: 10 Friend Date Ideas That Aren't Dinner and Drinks
Ready to take your #goals to the next level? Grab these!
If you want assistance in determining an approachable resolutions, or would like help creating and sticking to a plan to get you there, I would love to work with you. Reach out at samantha@simplywellcaoching.com today and together we will make your goals a reality!